"I look for three things in my sheep- Back, Bone and Butts. Nowhere in the US will you find sheep that compare to Slack's in those three areas."
T. Peeks
---
Val, the Sedalia show team has to be dead tired. What a great set of sheep. My granddaughter was so excited to get her Dorset ewe lamb. She will be very well taken care of by a first time shower. Thanks for bringing a outstanding set of sheep. Carl Mize.
Val & Tom, I just wanted to let you know that one of the ewes you first sold to our daughter won Champion Breeding Ewe at the Robertson County Fair last week. The young lady that bought her was extremely grateful for her. Morgan & Betty Richards.
---
Val, You guys have a awesome place up there, had a very nice visit yesterday, cant wait to use the Total Blast Son this fall and show the lamb that we brought home as well. Just talked with Tom and we will be back up there in July to get a Ewe. Thanks again for the purchase.
Jimmy Blades
---
Tom:

I purchased a Suffolk ram lamb (Slack 9566) and 4 year old ewe from you 2009. The ram has grown out very nicely and we plan to use him as our lead sire for 2011 lambs. He has added bone and butt to most of his lambs, with excellent growth rates. We bred the 4 year old ewe to your ram and she sired an excellent ewe lamb that we will be keeping back as a replacement .

I am sending you a photo of one of the lambs sired by Slack 9566 out of Heitstuman bred ewe. The lamb weighed 145 pounds at the 2010 Grant County Fair in Moses Lake, Washington; and was the 4-H champion lamb for my son Michael Heitstuman under judge Clay Weber. The Grant County Fair is one of the most competitive fairs in the State of Washington.

Sincerely,

Mark Heitstuman
Heitstuman Suffolks
---
Greetings Tom and Val,

I cannot speak enough good about how the Slack sheep consistently produce. I really like the lambs that we got from Slack 1095 and Slack 7355 (Moses). I am sending you a picture of a March bottle baby that weaned 80 lbs and never missed a beat in his life. He is 31 inches tall and 35 inches long and over 200 lbs. He has the length of loin and his leg is really filling in with muscle, and has a clean front. The picture does not do justice for him. His dam is a Slack 1095 daughter that was very competitive at the Wisconsin State Fair. We just had the Reserve Champion Wether Type Yearling Ewe at the Wisconsin Sheep and Wool Festival. Her ewe lamb has been in our show string all summer long. We had 3 out of 6 ewes in the championship drive, they were all our ewes out of Slack rams.
Thanks and best regards,

Randy J. Broehm
Wisconsin
---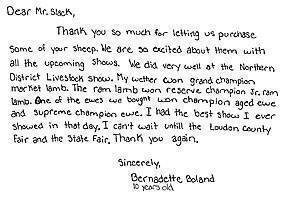 ---
Tom & Val,

We purchased a ram from your flock three years ago and we'd like to purchase another RR/NN ram lamb or yearling ram this summer. The majority of the ewe lambs sired by Slack 5191I (a Total Blast son) have remained in our flock. We'd like to purchase a ram that may add additional height to our lambs. I thought I'd also let you know we entered a ram lamb out of our Slack ram and a Slack Aged ewe we purchased from you in the Penn State Ram Test last summer and he was the high selling Suffolk Spring Ram Lamb.

Thanks,
Jeff Bollinger of Blue Spruce Suffolks
---
Tom,

Hey, this is Justin Fitzwater from Garrett County Maryland. We bought about 8 lambs, 2 yearlings, and one ram lamb. They are the best set of sheep we have ever had. I want to thank you for all your help in doin that. They are extremely muscled with a lot of bone. It's just unbelievable the change in one year. I don't know if Dad told you, but we took Supreme Champion Ewe at the Maryland State Fair. And the ram lamb was Champion Suffolk at every show, even the state fair. I wanna say thanks again, I'm happy.

Thanks,
Justin Fitzwater
---

Hi Tom,
My husband, Everett, and I bought your fall cross bred ram entry at Sedalia. What a buck! We love him. He arrived in good shape. We are very excited about the prospect of his lambs next year.
Meredith Byrne


---

Slack Family
Just wanted to say Congratulations to you all and especially Brett! It is a true accomplishment to achieve what you all have as a farm and as a family. We purchased our second ram lamb from you this summer and look forward to bringing some more of your great genetics to Virginia. The genetics we've purchased from you have greatly improved our flock, not only in quality, but health and hardiness too.
Thanks,
Aaron and Ashley - Shady Hill Suffolks


---


Thanks for all you have done for us! We really appreciate your support, help, and friendship. Again, thank you so much.
Tom Dawson Family


---

Tom,
I am truly impressed with the quality and consistency of our sheep. Seldom do you see such uniformity in a set of sheep. You have stayed the course and continue to produce genetically sound animals that are reliable and consistant breeders. Once again, thank you!
Kyle Smithwick

---

Dear Mr. and Mrs. Slack,
We recently purchased one of your rams. We are extremely pleased with his overall size and disposition. We thank you for the work you've put into your rams and can't wait to see what the lambs we get from him will look like.
Mike, Stacey, Lindsey & Andrew Murphy

---

Tom and Val,
I am Brent Larson, the shepherd at the University of Wyoming. We bought the first place yearling ram this past year at Sedalia. It appears that he did a good job of getting the ewes bred. We are just starting to lamb and they look very promising. Thanks again.
Brent Larson

---

We bought ram number 7550 from you at Sedalia last year. We bred him to 15 ewes and boy has it paid off so far. His lambs are big, healthy, and thrifty. We have had more ewe lambs out of him as well which to us is a plus. We are very excited to watch them grow. We were also very pleased that he settled all his ewes, we didn't even need a clean up ram.
Very pleased,
Jessica White and Travis Nelson

---

The auction Saturday was phenomenal. I was expecting to see the quality of lambs that I saw two years ago when I attended your sale. I was really impressed by the step up in the lambs. I didn't think that you could improve on what you had two years ago, but I was wrong. What a great set of sheep.

Andrew Tolley

---
With deep appreciation for your support of my 4-H lamb project , the 4-H Program , and the Indiana State Fair; I thank you. Your kindness in making the sale of the 2007 Grand Champion 4-H Market Lamb a record breaker will always be one of my greatest memories. Whether friends, family, business, or organization, you truly make a difference.

Thank you!
Brett Slack

---
Dear Tom,
Just wanted to let you know we are very pleased with our lambs this year. We have ended up with good lambs out of the ewes and ram we purchased from you. Travis is starting to shear the lambs, but you can see the muscle expression through the wool. We had 37 lambs out of 20 ewes, felt like we had a great year.

Thanks,
Travis & Mandi Marshall
---

Tom & Val,

My wife and I purchased a ram lamb from you in June of 2006, Slack 5191I a "Total Blast" son and he has worked out great for us. Using him on our larger frame Suffolk ewes has produced our most complete set of lambs we have ever raised and we now have the choice of showing our breeding stock slick shorn or fitted. Our ewes will begin to lamb within the next week and we are looking forward to lambing season once again. "Norman" (Slack 5191I) will not be leaving our barn anytime soon, however he have kept a number of his daughters and I would like to purchase another RR/NN ram lamb or Yearling Ram this spring or early summer.

Thanks Again!
Jeff Bollinger

---
Tom and Val,

I am quite proud to be a shepherd and proud of the new ram from you that we have to grace our farm. I believe he will make a "powerful" contribution to our club lambs this coming spring. I wanted to send you a copy of a letter I wrote to a person who saw our ram.
"Our ram was purchased from Tom Slack (Slack's Suffolk and Club Lambs) of North Manchester, Indiana. Tom himself has been in the sheep business for 35+ years. As Tom will quickly tell you, this is how he makes his living and the preservation of his reputation is very important. Therefore, he produces only top quality. He is a fulltime shepherd with 3 sheep farms. It is truly one of the premier operations in the nation. I spent a day examining his operation and hope to return again and take more notes. He is also a well respected judge of sheep and has called for standardization in sheep judging across the nation. Thus, all said, he is quite serious about his work. He currently has approx. 450 sheep and will lamb approx. 600 lambs from December to March. Tom does not intentionally raise sheep for market. Most of Tom's sheep will make their way into breeder's flocks. He should be considered the breeders' breeder. Tom's sheep consistently win at the Stud Ram Show in Sedalia, MO, the Indiana State Fair, and the Kentucky State Fair. Friends I know in Kentucky put me on his trail some time ago. He has sold sheep in at least 40 states, 27 states just last year. Recently breeders in Texas have shown considerable interest in his rams. His top tier ram "Total Blast" put his operation on the map years ago. If you are interested in the direction breeders are going, the saying "How Texas goes in the sheep business, so goes the nation" could be a harbinger of things to come.


For Arkansas sheep,

Tom Nowlin
---
Tom,

I purchased one of your rams (three year old) through another producer in Oregon as a clean-up buck on my purebred Suffolk flock. His lambs were unbeatable at every show they were entered.

Colleen Russell of the Russell Family Farm
---
Hello,
My name is Gina Riebel and I bought two lambs from you last April at your sale. I just wanted to let you know how happy I was with them I took Grand Champion lamb and pen at my county fair (Armada Fair in Michigan) and one a jackpot show (Midland Summer classic) with them this past summer. I just thought you would like to know how they did.

Thanks!

Gina
---
Slacks,

We are having a ball with our sheep. 5153 is making quite an impressive sheep. His lambs grow like
weeds and are packed full of muscle. We have some lambs being shown by 5153 and the ewes we got from you, they are good. Thanks for all your help in getting us started in the sheep business in the right way.

Friends,

Richard and Judy Krebs
---
Tom,
Taking a moment to say thanks for the tour and most of all the quality Ram we brought home. He is all settled in with the "flock" and they are content. We got in at 2:00 am and he wanted to go right to work :>)
Thanks again,
Von Dykstra

---
Tom and Val:

Hi! My name is Amanda Heinonen, and I purchased a ram from you in August 2003. I just thought it would be nice to send you a couple pictures of what some of our lambs look like this year. Your ram has done wonders for our market lambs! One lamb was born on 1/31 and I just sheared him yesterday afternoon, and WOW! I will confidently say that he is the meatiest, fanciest, best lamb we've raised in many years. Your ram has really done a lot to help boost things for our lambs. This lamb is already 104 lbs, and he still has 60 days to go until the show. It'll be real hard to try and slow him down! I just can't believe how muscular he is for his age, nothing like him ever has set foot on our property. Thank you again for your beautiful stud ram, he was worth every penny!!

-Amanda Heinonen
---
Mr. and Mrs. Slack,

I just wanted to let you guys know how impressed we are with the ram that we bought from ya'll last summer. His babies are hitting the ground left and right, and all I can say is WOW. As they are growing, I am liking them more and more. I am also very impressed with the strength of the lambs. They hit the ground fighting and we have not had a single weak lamb born. This ram has proven to be easy lambing, throws good healthy, strong lambs, and the babies look awesome. Everyone that has seen him has been really impressed. We still have over half of our ewes to lamb, and I am extremely excited. This is the best ram that I think we have used on our ewes in a while. Thanks again for the guidance in selecting this ram.

Thanks,
Jennifer Carter
---
Tom and Val,

We just wanted to let you know how pleased we are with our ram. We purchased a registered ram lamb from you, off of the farm, in the fall of 2004 and have been pleased ever since. We used him to breed ewes we got from you also and have had the healthiest and easiest lambing we've ever had. Our ram is now 2 years old and still looks great. We look forward to purchasing more ewes and rams in the future from you.

Thanks,
Aaron Hausenfluck and Ashley Cook
Shady Hill Suffolks
---
We purchased your second place natural-colored yearling ram this past summer at Sedalia. We wanted to let you know that we are so impressed with the quality of lambs we are getting out of him! He is the real deal! We appreciate being able to purchase an honest sheep who has gotten better every day we've had him.
Chad and Krista Wilson
Wilson Farms